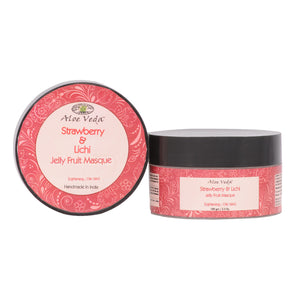 Description
Aloe Veda's Strawberry & Lichi Lightening Fruit Masque is created by blending Strawberry and Lichee Extracts in a base of Aloe Vera Gel ; Lactic Acid ; Carageenan Extracts and Xanthan Gum. The gentle fruit acids combined with Lactic Acid induce skin lightening, boost complexion and cures blemishes and acne marks effectively. The salicylic acid in Strawberry Juice, helps in removing dead cells from the skin and gently treats acne. It also tightens the pores, tones the skin, prevents further break outs and results in youthful skin. Suits Oily and Acne skin.
Ingredients
Aqua ; Aloe Vera Leaf Extracts ; Carageenan Extracts ; Xanthan Gum ; Glycerine ; Lactic Acid ; Strawberry Juice ; Lichee Fruit Extracts ; Allantoin, Disodium EDTA ; Sodium Benzoate ; Potassium Sorbate
How to Use
Wash face with water and pat dry. Apply Gel Masque with a clean spatula on the forehead, face and neck area. If required, you can add Rosewater, Milk, Yoghurt, Honey or Lemon juice. Relax for 5-10 minutes until the pack is absorbed completely. Rinse will fresh tap water, pat dry and apply toner or Aloe Vera Gel. Use this masque thrice a week to reap the best benefits. It also reduces sun damage and minimizes the effects of ultraviolet rays on the skin.