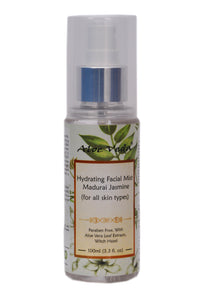 Description
Hydrating Facial Mist with Madurai Jasmine Absolute Oil & Aloe Vera Leaf Extracts. The word Jasmine is derived from Persian and means "a gift from God". Jasmine Absolute oil tones all types of skin - greasy, dry, sensitive and skin that is irritated and is especially good for oily skin conditions. Its stimulating aroma promotes feelings of strength, warmth, and vitality. Regular use hydrates the skin and keeps the skin supple. Contains no fillers, toxins, or alcohol. Cleanses pores, hydrates dry skin and clears face of dirt and environmental buildup. Works great on all skin types including those with breakouts & dry patches.
Ingredients
Aqua ; Aloe Vera Leaf Extracts ; Madurai Jasmine Absolute Essential Oil (Jasminum officinale)
How to Use
For best results, always use before applying moisturisers or face creams. Hold bottle five or six inches away from your face and spritz. Let it sit 1-2 minutes, and then (VERY IMPORTANT) blot off the excess with a tissue. Use day and night and as a cleanser to remove superficial impurities before a quick step out.