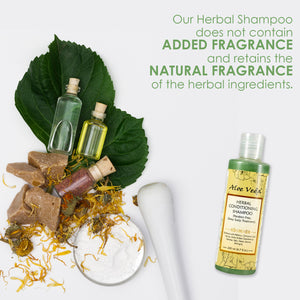 Description
Aloe Veda's Herbal Shampoo is a rich blend of natural nutrients and conditioners such as Oils of Hibiscus & Cinnamon Leaf, Henna, Amla, Shikakai, Tulsi, Neem, Bramhi & Bhringraj. These nutrients when absorbed, nourish and strengthen the roots and the hair shaft and returns water to the hair shaft. Aloe Vera gel is a good natural conditioner and scalp soothening agent and clears excess keratin, dust, oil and dry skin on the scalp or shaft. Our Herbal Shampoo does not contain added fragrance and retains the natural fragrance of the herbal ingredients.
Ingredients
Aqua ; SLES ; Coco-Mono Ethanolamide ; Coco-Di Ethanolamid ; Ethylene Glycol Monosterate ; Aloe Vera Leaf Extracts ; Kathon CG ; Herbal Essential Oil blend made from Hibiscus, Cinnamon Leaf Oil, Henna, Amla, Shikakai, Tulsi, Neem, Brahmi & Bhringraj.
How to Use
For best results, coat wet hair with 5-8 ml of shampoo. Gently massage the scalp and roots with fingertips to work into a lather. Lightly squeeze the shampoo from roots to ends. Leave on scalp for 2-3 minutes with gentle massaging to enable Herbal Ingredients to reach and fully act on the scalp and roots. Rinse thoroughly untill all the shampoo and suds are fully washed off. Use Aloe Veda Wild Lily Conditioner or pH Balanced Lemongrass Conditioner.