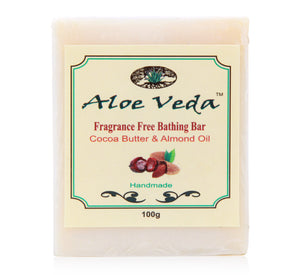 Description
Aloe Veda Cocoa butter and almond oil fragrance free bathing bar contains natural anti-oxidants - cocoa butter, almond oil, wheatgerm oil and vitamin E combined with aloe vera gel. Rich and creamy lathering it is great for moisturising skin and leaves your skin feeling fresh and supple.
Ingredients
Soap Noodles, Aqua, Stearic Acid, Milk Proteins, Coconut Oil, Shea Butter, Cocoa Butter, Wheat Germ Oil, Almond Oil, Sodium PCA, Glycerine, Aloe Vera Gel, Vitamin E
How to Use
Turn the shower to the temperature that suits you best. Wet your soap and then run it all over your body, covering yourself in suds and then thoroughly rinse off. Store soaps after use in a covered container e.g covered slotted soap dish, that allows air circulation, and in a cool, dry location to allow the soaps to breathe. Caution:- Handmade natural soaps are high in natural glycerin and vegetable oils and non-ventilated, humid storage may result in rancidity and low usage life. Keep your stored soaps out of direct sunlight, as natural ingredient colors may fade.