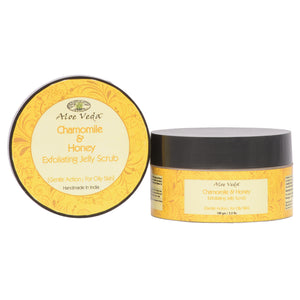 Description
This Gentle Exfoliant Gel Face Scrub, contains Honey, Date Extracts, Fresh Fruit juice, Aloe Vera Leaf Extracts and dried tea Leaves. Date Extracts, Honey and Natural antioxidants from dates and Fruit Juice protect the skin from sun damage, replenish skin moisture, and nourishes, softens and improves skin elasticity and absorbs impurities from the skin pores, making it an ideal cleansing agent. Crushed Green Tea Leaves exfoliates gently, providing deep cleansing and brightens the complexion by gently removing dead cells and impurities, revealing beautiful and glowing complexion. Suits Oily Skin.
Ingredients
Aqua; Aloe Vera Leaf Extracts ; Organic Honey, Fresh Fruit juice, Dates Syrup, Green Tea Leaves, Lactic Acid ; Allantoin ; Vitamin E, Xanthan Gum, Carageenan Extracts.
How to Use
Wash the face and neck with tap water. Take a dab of the scrub and massage face, neck and cleavage gently with the facial scrub. Rinse scrub off the face and feel the smooth and soft skin after exfoliation. Gently pat your skin dry with a soft towel and continue with the rest of your skin care routine. Caution: Facial skin is sensitive. To protect your skin, scrub gently. Avoid scrubbing around the eyes. Use only once a week.