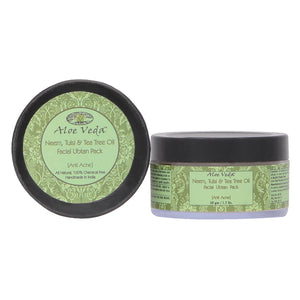 Description
Aloe Veda's Ubtans are chemical-free and made from pure, finely ground natural herbs, barks, roots, dried leaves and sun dried flowers. These are ground by hand in traditional hand grinders, blended and are used as cleansing scrubs or as face packs for deeper exfoliation. Make your own customised packs by adding milk, honey, yoghurt or rosewater to form a smooth and creamy paste. Each ubtan is specially formulated with unique ingredients for specific benefits.
Ingredients
Multani Mitti, Anantmul, Pure Sandalwood Powder, Wild Turmeric Root Powder, Manjishta, Neem Powder, Mulethi, Daru Haldi Cucumber Extract, Tea Tree Oil
How to Use
Wash face with cool water. Take a teaspoon of Ubtan powder and mix with milk, yoghurt or rosewater to make a consistent & creamy paste. Apply the ubtan with a spatula on the face and neck area and rinse well with water after 2-5 minutes.