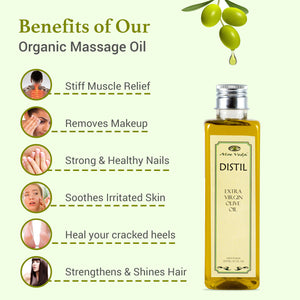 Description
Distil's Extra Virgin Olive oil is made by cold pressing olives and can be used for body and hair massage. Olive oil absorbs UV radiation and is very efficient in lowering the metabolism rate of body cells. Olive oil is soothing and healing to all skin types and helps relieve itch, stings and bites, healing of burns, dandruff and is an excellent hair tonic, especially for dry hair. Olive oil is high in antioxidants, including vitamin E. These nutritional powerhouses protect against age-accelerating free radicals. The oil of this miraculous fruit will guard your body and your skin from the inside out. So the next time rub Olive Oil on your skin! You'll double the antioxidant, anti-aging protection. Olive Oil is a tonic for the hair, to add shine and to keep it moisturized. Regular use of Olive Oil as a moisturizer maintains the hands and skin elastic, hydrated and smooth. It is also great as a face rub and helps improve your acne condition.
Ingredients
Extra Virgin Olive Oil
How to Use
Use on hair, scalp, face and body and in alternative medicine such as traditional oil and foot massages, hair & scalp massages and ayurvedic treatments.