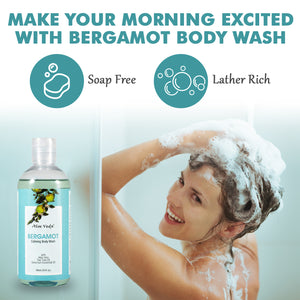 Description
Luxurious foaming soap-free Bergamot Calming Body Wash with Vitamin E gently cleanses and nourishes your skin. The gentle citrus notes of Mediterranean Bergamot and sweet floral notes of Geranium blended with anti-septic Tea Tree Oil will give you the ultimate spa shower experience. Aloe Vera and Glycerine heal, soothe and hydrate your skin to retain moisture after bath.
Ingredients
Aqua ; SLES - 18% ; Coco-Di Ethanolamid - 2%; Coco Mono Ethanolamine - 2% ; Kathon CG ; Ethylene Gycol Mono Stearate ; Aloe Vera Gel-4% ; Fragrance blend with Bergamot Essential Oil ; Geranium Essential Oil
How to Use
Step into the shower and turn the water to the temperature that suits you best. Pour a coin sized portion of shower gel onto a bath sponge or loofah and work it into a lather. Gently scrub yourself all over, just as if you were washing with soap and then rinse off thoroughly.