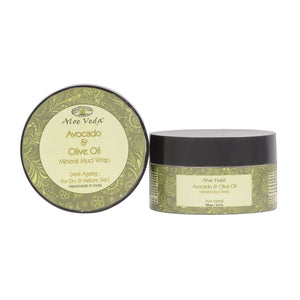 Description
Aloe Veda's Avocado & Olive Oil Anti-Aging Mud Wrap is richly blended with Avocado Oil, Wheatgerm Oil and Extra Virgin Olive Oil, containing Anti Oxidants, like vitamins A, D and E, making it useful for healing dry or aged skin and sun-damaged skin and cause the skin to be suppler. Avocado oil is high in sterolin, which facilitate the softening of the skin and reduces the incidence of age spots. Avocado oil contains lecithin and potassium, which are all highly beneficial for the skin. Avocado oil applied topically is absorbed completely and helps relieve dry and itchy skin. It also increases Collagen Production which helps keep the skin plump and decreases the effects of aging. Extra Virgin Olive Oil is suitable for Oily and Dry Skin. It heals irritated skin and helps lighten stretchmarks. Suits all skin types.
Ingredients
Aqua; Multani Mitti ; Mineral Mud ; Extra Virgin Olive Oil ; Avocado Oil ; Wheatgerm Oil ; Honey ; Citric acid, Vitamin E ; Sweet Almond Oil ; Cetostearyl Alcohol ; Isopropyl Palmitate ; Glycerine ; Calamine ; Phenoxyethanol ; Imid Urea ; Sodium Benzoate ; Potassium Sorbate
How to Use
Wash application area with water. Exfoliate the skin with Salt Gel Scrub to help get rid of all the dead cells accumulated on the surface of the skin. After exfoliation, use a clean spatula to evenly apply a layer of Avocado & Olive Oil Mud Wrap on to your skin by starting with your feet and working your way up to your neck. Wrap body in a thermal blanket, disposable plastic sheet or hot towel, so that the impurities can be drawn out. Lie down with the wrap in a warm place for at least 20 minutes. Remove the blanket and wash off the wrap with lukewarm water in a shower. After this, apply After Bath Oil, Body Lotion or Body Butter to the skin, using a relaxing massage technique and doze off.