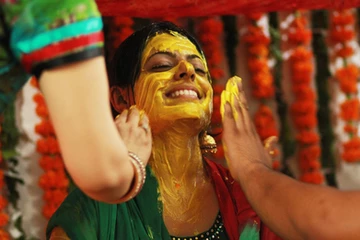 Want to avoid preservatives: Ayurvedic Ubtans are the best face packs ever
Ubtans, traditionally, are the oldest and most pure form of a cosmetic that were ever created. Made with simple yet powerful ingredients, Ubtan is a magical face mask that pampers your skin leaving it rejuvenated. It is so powerful that an entire wedding ceremony is dedicated to it, but hey, you don't need to get married to use it. Ubtan, in itself means local application, used for the beautification of the body, dating back to early legacy of the rich Indian Heritage.
The ritual of 'Ubtan', also known as 'Battne di Rasam' in Punjabi, and 'Kappumanjal' in Tamil is one of the vital components of the concept of 'Solah-Shringaar' Sixteen types of beautification of body. The principal acting constituents of ancient 'Ubtan' used in rituals are Turmeric, Bengal Gram & Sandalwood. So, If you haven't already heard about the goodness of the au-natural ubtan, let me take you through what makes this all-herbal product such a magical concoction.
Luxury ubtans are made from pure, finely ground natural herbs, barks, roots, dried leaves and sun dried flowers. These are ground by hand in traditional hand grinders, blended into a base, usually Multani Mitti, and are used as cleansing scrubs or as face packs for deeper exfoliation.
Make your own customised packs by adding milk, honey, yoghurt or rosewater to form a smooth and creamy paste. Each ubtan is specially formulated with unique ingredients for specific benefits. According to Ayurveda, one should make an ubtan in accordance to your dosha or the imbalances in your body which cause skin damage or ruptures.
Doshas are the base of Ayurveda medicines and are categorized into Vatta, Pita and Kapha. Ubtans for Vata dosha are meant to moisturise the skin and should be used at normal body temperatures. While Pita Ubtans, are used for cooling effects on the skin so that they extract the heat and other heat-related out of your skin. Lastly, Kapha facial ubtans are beneficial when used with a warm liquid that helps stimulate the natural flow of body fluids.
Benefits Of Ubtan
Ubtans gives glowing, clear skin without side-effects
Makes skin look younger and rejuvenated
Removes facial hair
Prevents acne
Gives you toned skin
Preservative-free protection for the face
Ubtans provide a powerful and chemical-free, nurturing and exfoliating treatment that stimulates the underlying tissues of the skin. By its nourishing, revitalizing & refreshing action, Ubtans give a natural glow to the complexion. Regular usage prevents the occurrence of premature fine lines, improves skin texture, giving skin a smooth radiant finish.
For typical use, take a teaspoon of Ubtan powder and mix with milk, yoghurt, lemon juice or rosewater and make a consistent & creamy paste. Apply the ubtan after washing the face with cool water. Keep for few minutes and rinse well. By changing the liquid used for blending, several unique benefits can be introduced to the Ubtan.
Vatta, Pitta, and Kapha collectively are known as the three doshas in Ayurveda. These three doshas make for the biological energies that govern the human body. It is believed that imbalances in these three doshas become the reason for human ailments and have an adverse effect on our health and overall being. Vatta dosha comprises of space and air, Pitta dosha is governed by fire and water, and Kapha dosha is mainly energies from water and earth.
Aloe Veda has a selection of pre-blended Ubtans, made from the finest ingredients, roots, barks and essential oils, blended with Multani Mitti and 7 of the most important Indian Home remedies. 1. Neem & Tulsi 2. Orange 3. Turmeric 4. Sandalwood & Rose 5. Sandalwood & Saffron Blended.
Ubtans from Aloe Veda are made with a wider choice of rare ingredients that are not normally available in store ubtans. All our variants contain Neem, Aloe Vera Powder, Liquorice Extracts, Allantoin, Turmeric, etc blended into highest grade of Multani Mitti, that is safe and certified for Skin use.
Check out our Ubtans | https://aloe-veda.myshopify.com/collections/ubtan-facial-packs.