Beauty pageants - A gateway to success & glory! | ETimes.in Updated: Jan 7, 2022, 18:34 IST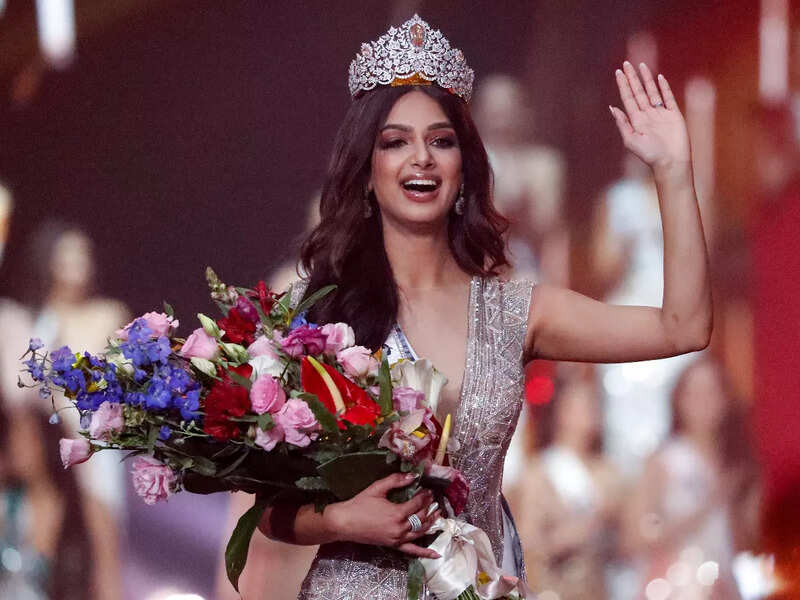 Once again India gracefully straddled the globe when Harnaaz Kaur Sandhu was crowned Miss Universe on December 12, 2021. Her self-assured responses and deeply held convictions ensured that the crown belonged to 'India'. As the country celebrated with pride and delight, the moment was a hark-back to the several Indian girls over the years who brought home accolades and recognition for the country, along with global titles.
Sushmita Sen, Aishwarya Rai, Diana Hayden, Yukta Mookhey, Priyanka Chopra, Lara Dutta, Dia Mirza, Manushi Chhillar
-- young, then unknown girls, who participated in and won the Miss India contests, stepped out from the Times portals -- groomed, and armed to the teeth with grace, poise, information, and self-confidence. They all did themselves and the country proud by bringing home global titles such as Miss Universe, Miss World and Miss Asia Pacific. The rest, as they say, is history… These girls now lead from the front as epitomes of empowered women with well-shaped opinions, and the causes they espouse. They have inspired thousands not just to believe, but also to speak up for themselves.
These victories changed the global conversation about Indian women and about India.
Designer Ritu Kumar
who was associated with dressing the Indian participants for several years, recalls the euphoria of those days, and talks about how the global beauty titles helped project a new India to the world. "The visuals for the country changed to smart, accomplished young women with great communication skills, sporting beautiful Indian textiles. The world and India stood up and took notice. Now suddenly the mood board for India changed. We realised what an amazing message these girls can send – for our country, Indian women and for what we had culturally in the 90s."
With many more girls bringing home several global awards, and Indian women making a mark for themselves in several other fields over the years, today we accept the achievements of our women with quiet pride.

Best looking girls don't always win!

Global standards of beauty have undergone a sea change over the years, and beauty pageants are no exception.
The criteria to win is not just looks, but a fit body, an all-round personality, spoken skills and inner depth. Right from when they are shortlisted by
Miss India Organisation
, contestants are encouraged to eat healthy, exercise, and adopt healthy habits. They are groomed physically, mentally and emotionally, and their innate skills honed. A pageant is a talent or a personality contest where beauty is just one of several criteria -- you need a combination of communication skills, stage presence and personality. This is like other contests, which have their relevant criteria -- an Olympic athlete must be a fast runner; in a weightlifting competition you need a fit body with amazing muscles, and in a dance competition you require mind blowing dance moves and coordination.
Says Natasha Grover, the Brand & Operations Head of Miss India Organisation
, "The best-looking girls do not necessarily win the pageant most of the time. The winner is the girl who has an all-rounded personality, confidence, and communication skills. She needs these qualities because she will have to deal with the media and give speeches on many occasions across the world. We expect our winners to be outspoken and knowledgeable about current affairs. The popularity of our pageant has increased manifold. The number of applicants today is far more than we used to get back when Sushmita and Aishwarya brought home the crowns."
The run of success continues long after Sushmita and Aishwarya made it big. Who is not aware of successful names from the pageants who made it big, such as
Juhi Chawla, Poonam Dhillon, Smriti Irani, Neha Dhupia, Gul Panag, Dia Mirza, Celina Jaitley, Disha Patani

 
and many more? Several recent finalists are already well-established names in the glamour world. Miss World 2017
Manushi Chhillar
will soon make her acting debut in the historical Yash Raj period drama,
Prithviraj
opposite Akshay Kumar.
Pooja Hegde
, second runner-up in the Miss India 2010, is now a leading actress of Telugu cinema.
Taapsee Pannu
, Miss India 2008 finalist, is one of the leading Bollywood actresses.
Sobhita Dhulipala
, Miss India Earth 2013, is one of the leading faces on OTT (
Made in Heaven
- 2019).
Mini Menon
, Femina Miss India Asia Pacific 1996, was a journalist with Star TV and Bloomberg, and is now co-Founder & Editor, Live History India.
Srinidhi Ramesh Shetty
, Miss Supranational 2016, is a big star in Tamil and Kannada films.
Shonali Nagrani

 
Miss International first runner-up 2003 is a popular sports anchor
Apart from modeling and acting aspirants, computer scientists, armed-forces aspirants, and even doctors enter the pageant, and want to return to their fields of study thereafter. Recent participants have gone on to become officers, entered the haloed halls of IIM and top modeling houses in Paris and New York. It was at the 1998 Miss India pageant that the present Union Minister for Women and Child Welfare, Smriti Irani, first announced that she was interested in politics.

The Clincher
Pageants demand intelligence, awareness, and a sharp focus on world events.

 
The clinching test at beauty pageants, including the Miss Universe and Miss World, is the final Question & Answer section, where within a few minutes, under immense pressure, contestants must prove their real worth. A look at how the questions have changed in tone and content over the years, and more significantly, at how the answers given by the girls have gained in confidence and substance, gives all a fair view of how these contests have evolved and kept pace with changing times and women's movements. While girls often stuttered at the most basic questions some years ago, today they deal dexterously with questions related to climate change, world news and other complex issues, and offer advice to other women on their self-worth and changing status in the world. Questions such as "what makes you blush" have given way to important dialogues connected to politics, world climate or women empowerment.
When
Harnaaz Kaur

 
was asked at Miss Universe 2021 what advice she would give to young women on the pressures they face today, her answer rocked – "To believe in themselves. To know that you are unique and that's what makes you beautiful. So, stop comparing yourselves to others and let's talk about more important things happening worldwide. Come out and speak for yourself because you are the leader of your life, your own voice."
Way back in
1995
,
Miss Universe First Runner-up
Manpreet Brar

 
said in response to a question that she would give women "the right to choose what they want to do in life – so they can be thinking, living individuals, not just mothers and wives…"
In
2000
,
Miss Universe Lara Dutta
responded to a question with, "I think pageants like Miss Universe give us young women a platform to foray in the fields that we want to and forge ahead, be it entrepreneurship, the armed force, politics... It gives us a platform to voice our choices and opinions and makes us as strong and independent, the way we are today. "
Shonali Nagrani, Miss International 2003 First Runner-up
, credits the pageant for being a catalyst in changing so many lives and calls it a sure shot catapult for a girl's career. "When you win, you walk the walk and talk the talk like a winner. And so, others wanted to know what I had to say. One minute I was just a regular 20-year-old kid and suddenly, after winning, people wanted to listen to what I had to say."
Platform for glory & success
Beauty pageants provide a platform for achieving fame and glory. They are a good entry point into various arenas – glamorous as well as non-glamorous. Just participating in the pageant (even if you are not a winner) helps contestants stand out among lakhs of aspirants trying to enter these fields -- movies, singing, tv hosting, news anchors, public relations, or politics, among many others. A girl who has been through the contests has a certain presence that stands out from others. Models see a good hike in their fees even if they just participated in the Miss India contest.
Says
Harnaaz
, "Pageants have evolved over time from providing a platform that appreciates mere beauty to now celebrating a woman's dream, goals & calibre. From women empowerment to global issues, pageants offer an opportunity to share viewpoints, uplift social causes and be a strong voice of the unheard segments of society. The contestants embody warmth, care and responsibility and effortlessly symbolise womanhood. Not only do pageants infuse immense confidence in women; they also serve as a fine example of women empowering women. Young minds are charged when they see their idols achieving the impossible and representing their kind so passionately and effectively. All in all, pageants are a representation of outstanding beauty, talent and service that women around the globe are capable of."
Asha Bhatt
, who was the first Indian to win the
Miss Supranational pageant in 2014
feels beauty pageants have always had a wider outcome and they will never phase out. "Beauty pageants are not just about external beauty, as beauty is so subjective; it's all about having a purpose and service. My pageant did have a very positive impact on me and has helped me in my all-round development. Be it facing the crowd, conveying what I feel with conviction and being confident in all aspects of life!" states Bhatt.
Bhatt's successor,
Srinidhi Shetty
,
Miss Supranational 2016
, echoes a similar sentiment as she says, "It takes determination and perseverance to reach the top. At the end of it, whether one wins or not, once you participate in a beauty pageant, you will realise what you have to offer and what more you have to become."

Enabling Beauty with a purpose
"What the pageant world has come to see is that the most important validation is internal, and the outputs that matter are not fame but making a difference in your own community," says Natasha Grover, "Miss World's 'Beauty With a Purpose' programme dominates the format of the international contest and spawns a global network of socially relevant programmes in over 130 countries, while Miss Universe focuses on empowering young girls to pursue great achievement by embracing their unique individual strengths, identities and looks."
The national contests echo this. The winner at Miss India (who goes to Miss World) works diligently with the police, government and corporate sector to help build the winner's project, which is presented at Miss World. Apart from this, every one of the state finalists typically works on an issue of relevance in her own state – from water security to food banks. Creditably, Miss India Organisation has worked hard to increase the diversity in the contests, to show that there is not one "ideal" of beauty. Today, we have representatives from each of the Eastern and North-Eastern states as part of the contest. And it is not just geographic diversity – the contest has lowered the height criteria, and the idea of a light-skinned, fair eyed winner is truly archaic and irrelevant for the contest. The contest is also inclusive – trans women are welcome to participate, and indeed, have.
Today's pageant is about creating a space where young women can celebrate and represent what is unique about themselves, and the goal of the organization is to provide the resources and guidance to nurture, groom and protect these young women during a phase when they are most vulnerable. And the real difference happens in a much more intimate setting – in their own homes and communities. "It may not be on the silver screen, but when a girl secures the respect of her family, that is much more meaningful," emphasizes Grover. Ask Manya Singh, who was the runner-up at this year's Miss India contest. The daughter of an auto-rickshaw driver, she made headlines across the country, reigniting pride in daughters and opening up opportunities for countless young girls like her in parts of the country where patriarchy runs thick.

Ace fashion designer Suneet Varma
is totally for these beauty pageants and things they empower women, he quips "I am a complete feminist and I believe it's very important to have women only platforms that not only celebrate their strength, their beauty but also their courage and opinions. Preparing for a beauty pageant strengthens the participants to believe in their convictions and empowers them to stand strong and as equal individuals who can and do make a difference to society. I hope we encourage more young women to dream big and come out as winners in India and internationally."
How can we argue with this? Is a movement focused on building self-confidence and constantly challenging the norms of "beauty" and engagement within one's own community not a worthwhile enterprise? "If Virat Kohli will ultimately be remembered by the history books not for his victories but for ushering a new standard of fitness and ultimately competitiveness for Indian cricket, then perhaps Miss India Organization and team should be celebrated similarly for their real mission - elevating the standards of fitness, grooming, public speaking for the young women of India, today," signs off Natasha.