About Us
Aloe Veda is a Ayurveda-inspired Wellness brand with a suite of outstanding products that blend together natural BioActives, Aloe Vera Leaf extracts, and Essential Oils in a functional form for daily use products, that include hand-made soaps, baby care products, shampoos, conditioners, shower gels, liquid hand soaps, hand sanitizers, herbal hair oils, hair packs, body moisturizers and lotions, massage oils, after bath oils, essential oils, body butter, face packs, masques, scrubs, talcum powder, etc and a whole lot more. Each product is highly functional and combine nature and technology together to deliver a next generation wellness experience.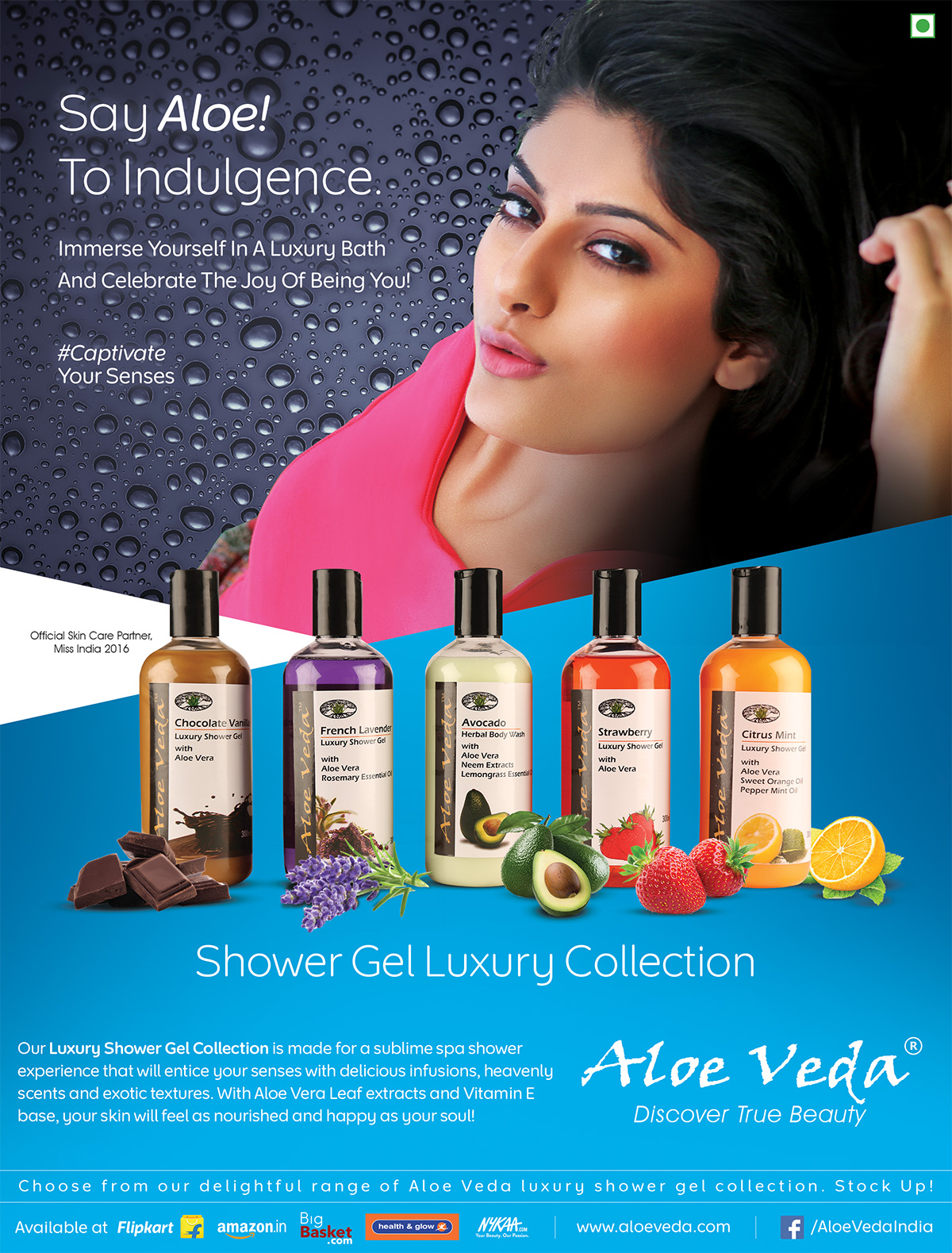 Inspiration by Ayurveda
Aloe Veda is inspired by the mystical healing properties of the wonder herb Aloe Vera and the traditional Indian Medicine of Ayurveda.
India is home to Ayurveda – the age old healing science of life, natural forces and cosmic energy documented formally in texts such as Sushruta Samhita, Charaka Samhita, and Ashtanga Hrudaya 5000 years ago. Ayurveda documents the impact of the five classical elements, viz. earth, water, fire, air and ether on our body and prescribes the framework to maintain optimal balance for different body constitutions – Vata, Pitta and Kapha Doshas. Ayurveda places great importance on eating habits, daily routine, state of mind and the change of seasons and treats the whole person than parts to achieve greater balance and well-being of body, mind and emotion.
Aloe Vera (Aloe Barbadensis), nicknamed as the 'plant of immortality' by the Egyptians has been one of the most commonly used medicinal plants in herbal cosmetics over the ages. Aloe Vera Gel is a natural blend of over 70 ingredients in which the prime ingredients are minerals, enzymes, proteins, amino acids, vitamins A, B, C and E and polysaccharides. The Aloe plant finds mention in the Rig Veda written by Dhanwantri, the God of Ayurveda, which is the earliest book of natural medicine dating BCE 4,500 and BCE 1,600. It also finds mention in the Papyrus Ebers, an Egyptian document written in BCE 1,550, where 12 formulae were given in to mix the Aloe Vera Gel with other agents to solve skin and internal disorders. In India the use of Aloe Vera plants were widely spread since 375 BC. This complex and unique natural blend is highly beneficial as it is anti-bacterial, healing and soothing and is widely used in skin treatment for wounds, burns, sunburns, allergies and bruises. It nourishes the scalp, boosts hair growth and is useful for treating hair loss.
Our Mission
Responsibly Made Products
To make a difference, by growing our business and making our profits only by selling products, that protect our beautiful planet and the people and animals who depend on it and which carry great value for our customers and that make them happy & healthy using them.
The Aloe Veda Pledge
True beauty comes from confidence, vitality and inner well being. We believe that nature's way is the best and only way to be beautiful. We seek out pure and wonderful natural ingredients from all parts of the world, we blend them in our products and we bring you products bursting with effectiveness and zing to enhance your natural beauty. We strive to protect our beautiful planet and the people and animals who depend on it. We don't do it superficially or because it's fashionable. We do it because, to us, it's the only way to make a difference.
All our products are made from natural fruit and vegetable extracts, finest essential oils, plant glycerin and safe synthetic ingredients and are paraben free, petroleum free, child labor free and cruelty-free. All our products are vegetarian.
The brands, Aloe Veda, Natria & Distil, are owned and managed by Aloe Veda Personal Care, a unit of Fortune Consumer Products Pvt. Limited. The company is privately held. The Management is headed by Reginald Pathrose, Managing Director, an ex-banker with 15 years of experience in Retail and Investment Banking.
Our Advisory Team comprising Aromatherapists, Brand Strategists, cosmetic chemists and accomplished professionals from Wellness, Packaging, Cosmetics and Distribution. The products retail at over 400 high-end stores, boutiques & modern trade in 32 cities across India and online. The company is now in the process of scaling up its business model to reach its BHAG plan of touching 25 million customers in 200 cities by 2020.