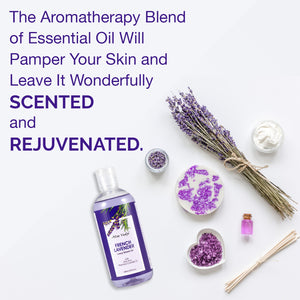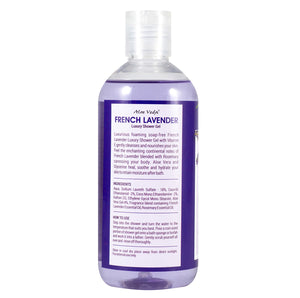 Description
Luxurious foaming soap-free French Lavender Luxury Shower Gel with Vitamin E that gently cleanses and nourishes your skin. Feel the enchanting continental notes of French Lavender blended with Rosemary caress your body. Aloe Vera and Glycerine heal, soothe and hydrate your skin to retain moisture after bath.
Ingredients
Aqua ; SLES - 18% ; Coco-Di Ethanolamid - 2%; Coco Mono Ethanolamine - 2% ; Kathon CG ; Ethylene Gycol Mono Stearate ; Aloe Vera Gel-4% ; Fragrance blend containing French Lavender Essential Oil ; Rosemary Essential Oil.
How to Use
Step into the shower and turn the water to the temperature that suits you best. Pour a coin sized portion of shower gel onto a bath sponge or loofah and work it into a lather. Gently scrub yourself all over, just as if you were washing with soap and then rinse off thoroughly.